Summer 2018 Think Tanks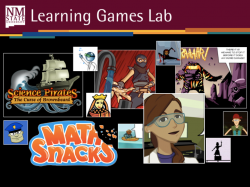 The Learning Games Lab will host summer 2018 Think Tank sessions for kids. Students must apply and then be selected to participate in a session for their grade level. Consultants will play games, participate in design and daily reflective activities, and develop media literacy and 21st century skills, such as collaboration, creativity, communication, and critical thinking. Consultants will also be exposed to career paths in the industry.

---
This summer's sessions are full:
Grades 9–12
Monday, June 4th–Friday, June 8th
Monday, July 23rd–Friday, July 27th 1 pm–4:30 pm
Grades 4–5
Monday, June 11th–Friday, June 15th
Monday July 9th–Friday, July 13th
8:30 am–12 pm
Grades 6–8
Monday, July 16th–Friday July 20th 8:30 am–12 pm
---
---
Please note that an application does not guarantee admission. Selection is based in part on research needs and on the potential of the applicants to contribute to our research. If you are selected to participate, you must commit to attending every day of the session.